A tank container is used for the transport of fluids, powders and chemicals. Tankcontainers are ADR vehicles. ADR is short for the French accord européen relatif au transport international des merchandises dangereuses par route. In short: the transport of chemicals on the road. To prevent potential damages to humans as well as nature, tank containers have to meet strict requirements. The obligatory labelling of containers is just one example.
What is a tank container?
A tank container transports hazardous as well as harmless substances. Think of substances such as milk and oils. The tank of the container is made of stainless steel with a layer of polyurethane and aluminium for protection and insulation. The barrel is placed in a steel frame. There are different types of containers, such as a silo tank or reefer tank. A silo tank is used for transporting food products such as grain. A reefer tank is used for chilled transport of fluids. Moreover, containers can have two compartments as to transport two substances at the same time.
The types of tank containers can be clarified by the T-code. The T-code 1 – 3 means that the tank container is used for harmless substances. T-codes above 3 indicate that the tank container holds hazardous substances.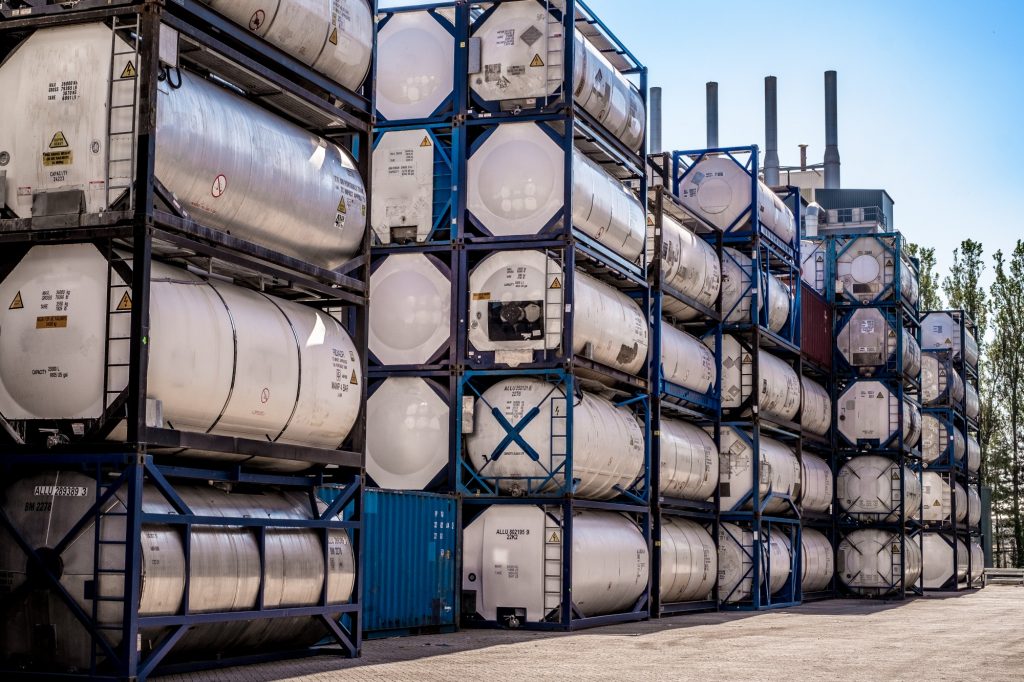 What is inside the container?
What is being transported in the tank container, must be visible on the outside as well. Various icons can indicate what the container is used for. Amongst others:
A fish/tree symbol to indicate that the container holds substances that are hazardous for the environment
A thermometer symbol to indicate that the container holds warmed substances
An "under fumigation" symbol to indicate that the container is gassed with insecticides
Through these labels the transporter and the one who opens the container know what to be aware for. There are a dozen of specific labels and numbers to indicate what is inside the container. The Dutch RIVM has, for example, an informational page with the hazard numbers.
Meeting strict requirements tank container
Because food safety, the environment and the health of employees are at stake, the tank container must meet strict requirements. Except for the correct labelling, the container has to be tested and maintained on a regular basis. That is exactly what Holland Tank Service does for transport agencies. We take care of estimation, repair and renovation of containers. We also do this for reefer tank containers, electrical and steam heated tank containers. We can also modify containers.
Are you interested in our services? Our experienced technicians are more than willing to advise you. Please contact one of our specialists!